Price rates at Sp/f. Bil – Mini Taxa 96
Price for rental tours with up to 4 travelers
Rental trips with up to 6 travelers, 30% are placed on top of applicable fares

Rental trips with up to 8 travelers, 50% are placed on top of applicable fares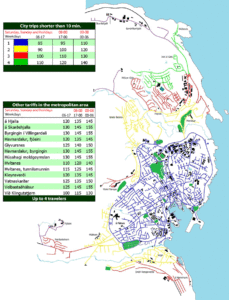 On weekends, Friday and on publich holidays the tours are at rate 2 from 2 pm. until 08:00 and to 24:00 and at rate 3 from 00:00 and 08:00 the morning after
These days there will bee added 25% to the current rate:
From ólavsøkuaften (July 28) at 12:00 to 30 July at 08.00.
Christmas Eve at 12:00 to 27 December at 08:00.
New Year's Eve at 12:00 to 02. January at 08.00.
Easter 24 hours a day.
Otherwise, when there are special events in the city and we announce with a price increase.
Travel between zones implies that rate multiplied minus city driving rate of the total price. Eg. a trip from "undir Kongavarða" to "Millum Gilja" will be calculated by the following model:
At 00:00 to 06:00 130 + 130 – 105 = DKK 155,-
At 17:00 to 24:00 115 + 115 – 95 = DKK 135,-

Price summary
Rates
Urban driving, less than 10 min
 1
2
3
At 06-17
At 17-24
At 24-06
 Saturdays, Sundays and public holidays
At 08-24
At 24-06
Zone 1.
85
95
110
Zone 2.
90
10
120
Zone 3.
100
110
130
Zone 4
110
120
140
Houer driving
10-15 min.
110
130
145
16-20 min.
145
170
190
21-25 min.
180
210
235
26-30 min.
215
250
280
31-35 min.
250
290
325
36-40 min.
280
325
365
41-45 min.
310
360
405
46-50 min.
345
400
450
51-55 min.
375
435
490
56-60 min.
400
460
520

Up to 4 travelers